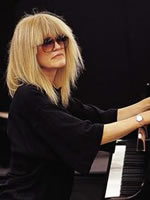 Carla Bley
Carla Bley, née en 1936, est une pianiste, organiste et compositrice de jazz américaine.
Digne représentante du style post-bop, elle ne s'y confine pas et cotoie également de monde de la pop et du rock.
Son oeuvre la plus connue est l'opéra jazz The Escalator Over the Hill.
En 1966, Carla Bley a une fille avec le trompettiste Michael Mantler : Karen Mantler (aujourd'hui pianiste).
Postbop